---
Advertise With Us
Kent Island Online provides a FREE business listing as a service to our neighbors. Please Email your listing with the following information to webmaster@kentislandonline.com

1) Company Name
2) Company Address and Phone Number
3) Brief One Sentence Description of services
4) Email Address
5) The Page and Heading that you would like to be placed under

Advertising Rates & Ad Design
Kent Island Online is a locally owned and operated site, serving Kent Island and the Mid-Shore area for over 20 Years! Kent Island Online has top search engine placement and we work hard to promote this website by sponsoring local events, advertising, and by developing local partnerships with trusted area businesses and media outlets. Imitations may come and go, but we are here to stay as a part of your community.
We offer an inexpensive way for your business to be in front of THOUSANDS of people and we will work within your budget. Email us today at webmaster@kentisland.org
For paid advertising rates please call 410-320-1607

Have Everyone See Your Ad!
Kent Island Online is more than just one website. We also are "AnnapolisSite.com", giving us coverage in our surrounding area. We also have a strong Social Media presence with Facebook and Twitter and our own popular Forums which truely are "The Talk Of The Town".

Why pay for an ad if the listing is free?
Kent Island Online lists everyone for no charge, making us the most complete online guide in the area! Paid advertising on Kent Island Online definately has its advantages over a free listing. If you are in the middle of a group of listings with only a text listing, and your competition has a picture and link that stands out, readers will likely miss your listing. Think about when you used to look things up in the Yellow Pages. The listing that got your attention was most likely the one with a paid ad, a picture, bold, etc... The listings don't jump out like the paid ads do. We will work with you to come up with the most beneficial placement for your ad, and to design the ad that commands attention.

What does a paid ad look like?


We offer full-page sponsorships, banner advertisements, scrolling page specific image ads, and 2"X2" static graphic advertisements that can be placed on any page within Kent Island Online. We offer premium placement in your category and on multiple pages. All advertisements are created in-house and are linked directly to your site. If you do not have a website, we will refer you to a partner who will make you an amazing website at a discounted rate. We can design any size ad, and can use your pictures and graphics. A good example of what our paid ads look like can be found right on our main page. We will work with you to design and implement the perfect advertisement to increase your revenue.

Why Choose Kent Island Online?
We reach everyone. The Kent Island Online main website has over 35,000 "unique" visitors per month - Both local people and visitors to our area. The original Kent Island Online "Forum" gets an average of 800 daily readers, and the Kent Island Online "Facebook" page has nearly 20,000 followers on it. Our Twitter and LinkedIn pages are also growing fast. Kent Island Online reaches more people on the Mid-Shore than any other resource! Smart phone users are on our social media pages and our Forum has an app for smartphones too. We offer a free "your name@kentisland.org" Email service that currently has nearly 1000 users who return to the site often to read their Email. Kent Island Online hosts "KIO Meet-Ups" at local night spots (advertisers) and will deliver an instant crowd.


What About Facebook and other Social Media?
Kent Island Online embraces Social Media. Our "Forums" have been around long before Facebook a nd Twitter, and continue to thrive. Kent Island Online has a strong presence on Facebook, Twitter, and LinkedIn. Our social media pages are the first to report breaking news and closings, and we use our social media pages to promote our advertisers in a newsworthy and timely way. Our Facebook page is the area's go-to page for all of the latest info and events and currently has nearly 20,000 followers. We also have Facebook groups such as "Shore Deals" and "KIO Nightlife" that are very active. By advertising on Kent Island Online you get everything online - including the area's most visted social media pages.

If you need a better social media presence, we can do that for you. Let Fisher Digital Strategies run your Facebook, Twitter, Instagram, Vine, etc., and build your customer base. Fisher Digital Strategies will discreetly run your pages and build your customer base so that you can get your message out to your customers about sales and specials instantly. Fisher Digital Strategies and Kent Island Online will grow your business without any work on your end...


Meet Rich Fisher

Pricing?
Advertising on Kent Island Online is very affordable. Contact us to inquire about pricing at webmaster@kentisland.org to discuss a customized program for your business.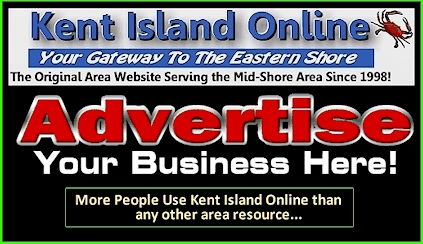 ---
The Original and most viewed Kent Island website!
kentislandonline.com / kentisland.org / kentisland.cc / kentislandonline.net / kentislandonline.org / kentisland.us / kentisland.ws / yourkentisland.com / mykentisland.org / mykentisland.net / queenannes.us / queenannes.org / queenannes.info / queenannes.biz / AnnapolisSite.com / TheAnnapolisSite.com / centrevillemaryland.us / centrevillemd.us